Frequently Asked Questions
How long before my phones arrive?
Your IP phones will arrive approximately 5 to 7 business days from the day of ordering, depending on the shipping method selected. After order processing, procurement and packaging, we ship Canada Post Ground, 2-day or overnight delivery. The best part is that the phones arrive "Plug & Ring" ready so all you have to do is plug them into your router/Internet/power and start making calls.
Can I use my existing analog phones with MeloTel VoipPanel?
Yes. If you want to use your existing analog telephones, all you need is the Linksys ATA. Connect the ATA to your router and connect your analog phone to the ATA. This will allow the ATA to convert the digital MeloTel phone line to analog so it works with your telephones.
Can I use my existing IP phones with MeloTel VoipPanel?
Yes. MeloTel VoipPanel can be used with most SIP compatible IP phones. They need to be unlocked by your original provider and will require manual configuration. Important: Please note that our support team will not be able to troubleshoot or configure IP phones purchased from another vendor. We recommend customers take advantage of the simplicity of our pre-configured IP phones.
Can I buy phones without purchasing additional service?
Yes. We offer an online gateway or call us directly at 1-888-635-6835.
Can I use a cordless phone?
Yes. If you want to use a cordless telephone, all you need is the Linksys ATA. Connect the ATA to your router and connect your cordless phone to the ATA. This will allow the ATA to convert the digital MeloTel phone line to analog so it works with your telephones.
What is an ATA?
ATA is an acronym for Analog Telephone Adapter. An ATA usually takes the form of a small box with a power adapter. It allows you to connect your traditional analog phones to the Internet and place Voice over Internet Protocol (VoIP) calls.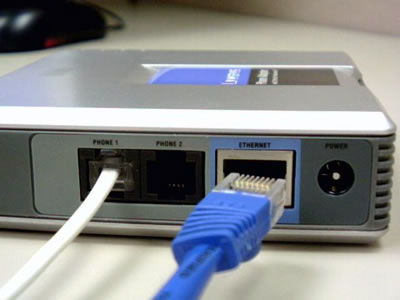 An ATA is a device used to connect a standard telephone to a computer or network so that the user can make/receive calls or faxes over the Internet.
There are several types of analog telephone adapters. All ATA devices create a physical connection between a phone and a network device; some perform analog-to-digital conversion and connect directly to a VoIP server.
The simplest type of ATA has one or more RJ-11 jacks to plug a telephone (and/or a fax) into and local router or switch. The device acts as an intermediary between the telephone and a VoIP server, digitizing voice data so that it can be transmitted over the Internet.
Some Internet telephony service providers, such as MeloTel, provide an ATA to their customers as part of the service package in situations where it makes more sense than a VoIP Phone.
Can I use my fax machine with MeloTel VoipPanel?
Yes. You can still use your fax machine to send faxes (all incoming faxes will be received by internet fax) by connecting it to an ATA and connecting the ATA to your router. You will need to buy a MeloTel VoipPanel line dedicated for the fax machine to replace the existing phone line. Although we suggest you use our digital only option with email/fax and fax/email.
Important to know
MeloTel does not support or troubleshoot analog fax conversion problems while using an ATA and Fax Machine.
Which phones are Presence-capable?
These models are Presence-capable: Cisco 508G, Cisco SPA 525G2, Polycom IP650, Cisco 303, Polycom 550.
Can I add to the Presence capability of my desk phone?
If your phone does not have Presence capability, you can order presence-capable phones or expansion modules through the normal MeloTel order process, either as an initial order or as an add-on. Or you can order supported phones or add-on expansion modules based on the Cisco and Polycom line. You can also purchase an expansion module or "side car" add-on device that attaches to the side of your desk phone and adds from 14 up to 70 monitor lights.
How much does MeloTel VoipPanel cost?
MeloTel VoipPanel offers simple, itemized pricing with very low monthly costs. All extensions include everything you need for your business, including a cloud-based business phone system, phone and fax service with unlimited incoming calling and faxing, integrated fax and advanced call management with voicemail, auto-receptionist, call forwarding and more.
Is there a free trial for MeloTel VoipPanel?
MeloTel VoipPanel comes with a 30-day money back guarantee so there's no risk in purchasing and trying it for your business. The phones can also be returned for a full refund within 30 days (must be in new condition, complete with all original materials).
What is the cost of the devices?
We offer business IP Phones and devices at competitive prices so you don't have to break the bank to get your complete business phone system.
What are the shipping costs?
The shipping costs are based on the number of devices and we offer three delivery options.
| Devices | Ground | 2 Day | Overnight |
| --- | --- | --- | --- |
| 1-3 | $18.95 | $34.95 | $52.95 |
| 4-7 | $24.95 | $39.95 | $62.95 |
What kind of commitment do I have to make?
No commitment is required. You can pay as you go (month-to-month) and cancel at any time. If however you decide to use MeloTel owned equipment, a term commitment will be required for a period not less than 1 year.
What are my payment options?
Currently, MeloTel only accepts check, Visa, Mastercard, Discover and Email Money Transfer for payment. We will make available additional forms of payment in the future and notify customers when available.
Why is there an E911 fee?
On June 3rd 2005, the Federal Communications Commission (FCC) mandated that all Internet phone service providers interconnected to the public switched telephone network offer E911 as a standard element of their residential and business offerings.
How do I cancel my subscription?
Simply call us at (888) 635-6835, select option 2 and speak with one of our friendly customer service representatives. Please be ready to verify your account number and billing information as it appears on your account.